Domicology: Opportunities, Markets, and Innovations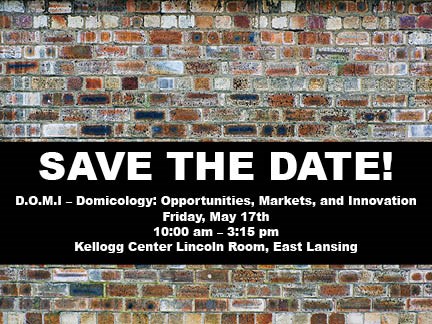 ---
By Madison Nacker, Research Assistant, CCED
Economic decline, disinvestment, natural disasters, and the effect of online purchasing on store closures have left communities with unprecedented amounts of structural debris, abandonment, and blight. How could a new paradigm called "domicology" turn this around?
EAST LANSING, Mich. – The "Domicology: Opportunities, Markets, and Innovations" (DOMI) event is slated to take place on Friday, May 17, at the Kellogg Hotel and Conference Center on the East Lansing campus of Michigan State University, from 10:00 am to 3:00 pm. The event, organized by the MSU Center for Community and Economic Development, costs $25 and includes refreshments, lunch, and parking at the Kellogg Center.
Domicology is the study of the economic, social, and environmental characteristics relating to the built environment. The current end-of-life paradigm for man-made structures in many communities allows structures to sit vacant until they decay, imposing substantial social, economic, and environmental costs on communities. Domicologists, however, seek to understand and improve the way in which the built environment is designed, planned, built, maintained, repurposed, and—when it has reached its functional end of life—deconstructed in order to promote social, economic, and environmental sustainability. More information about domicology can be found at https://domicology.msu.edu/.
The event will highlight advancements in the realm of domicological research, policy, and practice. Jeff Spencer, waste management specialist at the Michigan Department of Environmental Quality, is the keynote speaker. Other speakers will include those working in architecture, deconstruction, material sorting and characterizing, and the sale of architectural salvage; they will discuss progress in reducing structural abandonment and increasing material salvage in 15-minute lightning rounds.
Participants will have the opportunity to facilitate networking among public and private stakeholders in domicology. Private industry workers, scholars, policy makers, state and local government officials, historic preservationists, architects, builders, contractors, reuse industry professionals, community organizations, and others concerned with blight and abandonment as well as structural material reuse and salvage are all welcome to attend.
For more information, contact Madison Nacker: (517) 353-9555, nackerma@msu.edu
Registration: https://events.engage.msu.edu/DOMI
---