Michigan Avenue Thinkers and Doers: Bikes and Cars and Limes, Oh My!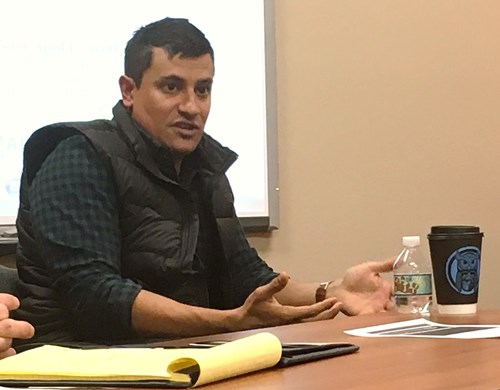 ---
By Heather Mahoney, CCED Research Assistant
On April 4th, the MSU CCED hosted a Michigan Avenue Thinkers and Doers forum on the topic of transportation in the city of Lansing and on MSU's campus entitled, "Bikes and Cars and Limes, Oh My!" Through Thinkers and Doers forums, the CCED aims to bring together innovative minds in the community to discuss a topic of concern or interest in the area. This year's Thinkers and Doers featured a panel of stakeholders and policy makers in the transportation sector, including Nico Probst, Lime Director of Midwest Government Relations; Wolfgang Bauer, MSU Associate Vice President for Administrative Services; and Andrew Brieschke, Deputy CEO of CATA. The discussion largely focused on changes to transportation in the past year and the future of transportation in the area, especially concerning the use of electronic scooters, or as they are classified by local ordinances, electronic skateboards.
In the realm of scooters, Nico discussed the changes Lime has made, and is still implementing, to make scooter riding safer and to improve how Lime communicates with the universities and municipalities it operates in.This includes Lime's open data sharing, which allows universities and cities to see where the scooters are being used most frequently. In addition, Lime has developed a new edition of its popular scooter that includes a screen on the top to help make the scooter more user friendly and help provide instructions to the rider in real time, including informing the rider where the scooter can be parked and where it can be ridden. After collaborating with MSU regarding ordinances for the scooters, scooters will be treated as bikes on MSU's campus and can be ridden in the bike lane.
Changes were also implemented this past year with longstanding transportation services in the area. Within the last year, CATA has partnered with MSU and, with the help of federal grants, now provides free bus rides to MSU students on their on-campus bus routes. Since implementing this new policy, ridership on the on-campus bus routes is up 41% from approximately 70,000-80,000 per week at the peak riding season to 160,000 riders during the coldest weeks in January 2019.
A major goal of both the policy makers and CATA and Lime is to reduce the number of cars driven on campus and in the city and make other forms of transportation more accessible. In the city, there are discussions about creating more accessibility for multi-modal transportation on Michigan Avenue in efforts to create safer bike conditions on the avenue.
Co-sponsors of the event included Allen Neighborhood Center, MSU School of Planning, Construction and Design, the Lansing Bike Co-Op, and the Mid-Michigan Environmental Action Council.
If you have a topic you would like to see discussed at future Thinkers and Doers forums, tell us your ideas here! Or contact Heather Mahoney at mahone86@msu.edu
---