Innovation Fellows
By: Tyler DeBrabander, MSU REI, Research Assistant, debraba5@msu.edu
The University Center for Regional Economic Innovation is pleased to announce the Innovation Fellows program. The program was established to attract and support champions in communities and organizations to tackle tough economic development issues our distressed communities face every day. Innovation Fellows provide on-the-ground support and coordination to move concepts to actions, implementing new economic development tools, models, and policies. Innovation Fellows will identify recommendations in past Co-Learning Projects to serve as current and practical information for local and state economic development practitioners and policymakers as they consider important decisions for Michigan communities and regions.
Spring 2017 Innovation Fellows: Samantha Farr and Bill Stough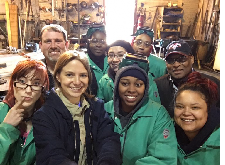 Samantha Farr - Women Who Weld
Women Who Weld is a 501(c)(3) nonprofit, based in Detroit. The program teaches unemployed and underemployed women how to weld and find stable employment in the welding industry. Women Who Weld's 6- week welding program is funded through donations and grants and is free-of-charge for participants. The organization was founded in 2014 and has hosted two full training programs; graduating 8 women so far. The program teaches participants how to weld using MIG (metal inert gas) welding, and to drill, measure, and cut metal. Additionally, participants receive training for the American Welding Society Certified Welding (CW) test. TechShop Detroit, a 33,000-plus-square-foot community based workshop and makerspace will be hosting the next training program. Women Who Weld resumed their 6-week training program in February 2017 and expects to graduate 75-100 women each year. Samantha Farr, founder and instructor of Women Who Weld, has written two Co-Learning Plans about her workshops and is ready to take the program to new heights. For more information, see their website.
Bill Stough - Triple Bottom Line
In regions of the state where entrepreneurial innovation is more established, the emergence of the Triple Bottom Line (TBL) business model is driving the growth of companies that are decidedly place-based, pay better wages and prefer purchasing local goods and services. This innovative business trend implies a shift from the current focus of reducing the negative impacts of economic activity to the deliberate generation of positive impacts, giving attention to social impact, environmental impact, and profit.
It is the goal of this REI Innovation Fellows initiative to actively introduce and help implement the TBL approach in the East Central Michigan region consisting of: Clare, Gladwin, Arenac, Bay, Midland, Isabella, Gratiot and Saginaw counties. Although not widely described as a disadvantaged community, this 8-county region has an average ALICE rating (Asset, Limited, Income, Constrained, Employed) that indicates 43.25% of the population live below income levels needed to achieve minimal living standards. ALICE is a metric that denotes those who are working, but are struggling to make ends meet. Bill Stough has been dedicated in his efforts to bring TBL practices to the light, he has co-authored a Co-Learning Plan on TBL strategies and is well connected in the small business world.
---