Lansing's Young Community Developers
By: Madison Sorsen, MSU CCED, Research Assistant, sorsenma@msu.edu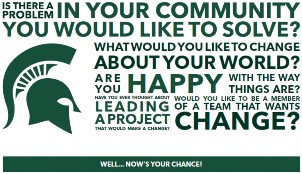 Every year, the MSU Center for Community and Economic Development (CCED) develops a Thinkers and Doers event to engage Lansing's eastside communities around a current and relevant issue. However, this year CCED is doing more than hosting a roundtable discussion. Associate Director, John Schweitzer and Research Assistant, Madison Sorsen of CCED have worked with the Lansing Public School District (LPS) to form a strategy to empower Lansing Public High School students through a gifted proposal process.
CCED and LPS recognize that High School students have always been an important asset to cities. As such, theCommunity Development Scholar Award gives students an opportunity to showcase their innovative ideas about how to address challenges and make the best of opportunities found in their communities. Examples of issues that may be addressed include but are not limited to environmental sustainability, homelessness, isolated elderly populations, food security, xenophobia and internal community discrimination. However, any pressing issue identified by students in their communities is eligible. Student proposals will include (1) the community issue they seek to mitigate or remedy, (2) their proposed solution and (3) the logic behind their solution. Proposals will be accepted from any Lansing Public High School student in the ninth through twelfth grade. Student have the option to submit individual or team proposals. Exceptional proposals will receive a $200 award and the opportunity to present their idea at the Young Community Developers Conference to interested community leaders and community members.
Since students observe and perceive the realities of their communities in their day to day lives, many of them have valuable knowledge that can be used to develop solutions to difficulties their communities may face. The proposal process educates students about the process of community development and is meant to empower and allow students to see themselves as real change agents. CCED and LPS value students as citizens with real potential to impact those around them. We are extremely excited to see what initiatives our young community developers have in mind.
---