Advancing the Science of Domicology: Materials, Markets, and Training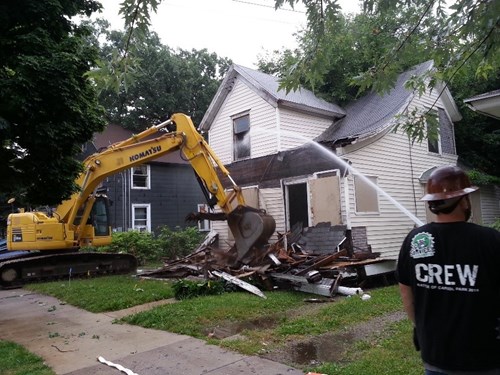 ---
By Lauren Ross and Nathaniel Hooper
There are many challenges to be overcome in the pursuit of ending structural abandonment. Though the social, environmental, and economic consequences are fairly well-understood, their full extent is still being determined. Still, many more questions need to be answered: how best to avoid abandonment, how best to divert that material from the landfill, how to finance these activities, and more. MSU CCED has been working to understand this phenomenon and propose solutions for several years, and has made measurable progress in that effort.
One of the fundamental challenges facing domicologists is finding ways to incentivize models that incorporate sustainability (social, environmental, and economic) into traditionally linear, market driven domains. The practice of deconstruction, for example, has proven to be an effective mechanism to maximize the opportunities for recycling and reuse of materials in structures that have progressed beyond their useful life. However, the multiplicity of factors which contribute to the feasibility of deconstruction as an alternative to traditional demolition are highly regionalized; many of the areas that are experiencing the highest rates of abandonment are also those that lack the characteristics which are conducive to the use of those deconstruction practices (established recycling markets, high tipping fees, commodity materials, policies mandating waste diversion, etc.).
A recently released report by CCED's domicology group, Structural Material Reuse and Recycling Market Study, explores important opportunities for expanding structural material use and recycling in Michigan. The report analyzes the current state of the material reuse sector and identifies a potential $80M industry, meanwhile diverting more than 6.5 million cubic yards of construction and demolition materials from landfills annually. Based on its findings and recommendations, MSU CCED anticipates a number of follow-on studies in the months to come, including conducting an in-depth survey of material reuse businesses to understand the industry at a deeper level, examination of innovative material processes that lead to the creation of more sustainable products, and identification of programs and policies that encourage salvaged material reuse.
The Domicology Workforce Development Initiative is one such effort currently being undertaken at the CCED. This initiative seeks to investigate and elaborate on service delivery models that can simultaneously encourage deconstruction practices and integrate positive community impact via opportunities for vocational skills training. These models typically feature a nonprofit organization that utilizes deconstruction projects to offer skills training and certification options for under-resourced individuals and communities. In their purest conception, such models can simultaneously remove blight and mitigate its negative impacts on communities, maximize material recycling and reuse, and offer opportunities for skills training and jobs in some of the most vulnerable communities.
By consulting with a multi-disciplinary network of stakeholders from across the state and nation, and utilizing open-source principles, this initiative works to identify and clarify replicable models for communities seeking to leverage positive impacts in addressing blighted areas. With this guidance, the domicology research team will be developing a series of training modules that are designed to guide individuals and organizations through the process of establishing a deconstruction oriented workforce development program.
To learn more about domicology, contact Dr. Rex LaMore at lamore@msu.edu
---